O KIVA (the Mauke word for Ocean)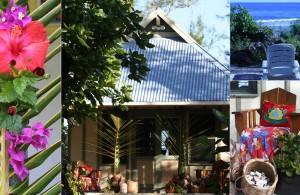 An individual seafront cottage perched on the makatea overlooking the Pacific Ocean. Private gardens, sun loungers and dining platform with spectacular views across reef towards the sunset.
The cottage contains queen size bed, indoor bathroom, fridge, tea and coffee making facilities and microwave.
If you are staying at this cottage during August to October you may just hear the soft sounds of the humpback whale passing on her journey from Antarctica.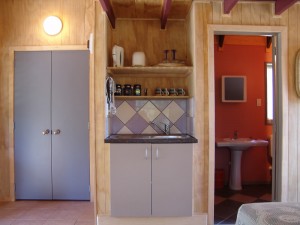 "Teata and Ta, you made our stay unforgettable.
Four days we have played hide and seek with the whales. But then suddenly on  day 5  they appeared in front of O'Kiva's  viewpoint – such magnificent creatures. We also for a bonus saw mad dolphins jumping up in the air for fun.
We hope to return to Mauke again. This has a spot in our hearts. God bless you Teata and Ta"
Ari and Arja, Finland
Just as the encircling makatea had protected Mauke since time immemorial from the crashing ocean, it is still protecting Mauke in a different way today. The large tourist chain hotels and their clients seek tropical sandy lagoons and large white beaches and are put off by the rugged makatea leaving this beautiful, simple, self sufficient way of life intact for those of us who appreciate it.
The way Ta and Teata have left the natural vegetation around O Kiva is to be commended as is their "integration" of visitors into the Mauke way of life. We love it.
Bill & Christine, Noosa, Qld, Australia
Rupe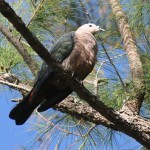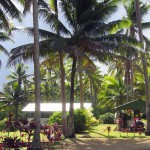 (named after the Pacific Pigeon which sits and coos in the palm trees outside the cottage)
An individual cottage in a private garden setting with views through the palm trees to the Pacific Ocean.
The cottage contains queen size bed, indoor bathroom, fridge and cooking facilities.
This cottage can be converted to a family unit sleeping 4 people.
Tipani and Tiare
2 semi detached studios with garden and seaviews (named after the flowers surrounding the units).
Tipani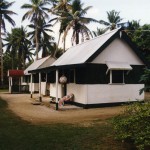 Tipani contains 1 double bed, indoor bathroom, fridge and cooking facilities.
Tiare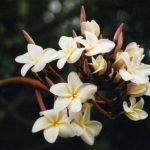 Tiare contains 1 double bed, indoor bathroom, fridge, tea and coffee making facilities, toaster and microwave.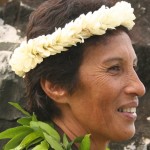 Getting married in Mauke! One of your friendly local hosts
at Tiare Cottages is Teata Ateriano, a registered marriage celebrant.
Your Mauke wedding can be celebrated at Sunset Point.
Email Teata and she will tailor a package for you which includes accommodation in O Kiva Cottage.
Teata and Tangata Ateriano
Phone: (682) 35192
Mauke Cook Islands
Email: te4ta@nullmauke.net.ck
Testimonials – Hear what our visitors have said of Mauke and Cook Island hospitality.
"Our stay has been fantastic. We enjoyed the stories that you told us about the island. Thankyou for your hospitality and company.The highlight of our stay at Mauke was the church service. The singing was so very beautiful, the cave tour very interesting and the friendliness of the people was phenomenal. We will always remember Mauke with fondness.
Sophia & Stephen, Canberra, Australia.
"Everything here is so gorgeous, the delicious dinners, the quiet secluded beaches, the caves, the hospitality and most of all the friendliness of everyone I ran into. Thankyou for making me feel one of your own. I won't forget my visit to Mauke."
Eliso, Colorado
"Oh what memories – it was a dream."
Rohan, Sri Lanka
"We have been to some lovely places, some great places on our travels but the truly exceptional ones that we will remember in the years to come are where we have met wonderful people in a wonderful place. We have totally fallen in love with Mauke and although it is very different from home after 2 days it is already like home.
Claire & Gavin, England.
I have only spent 2 days in Mauke. I wish it had been more to enjoy this really peaceful island. I visited some of the caves with its refreshing clean water. I did cycle around the island. Thank you very much.
Jose, Spain
Beautiful island, wonderful people, phenomenal banyan tree. Thankyou for a lovely visit.
Philip, Australia
A rare find. The island comes complete with beautiful people and a soul.
Bryan & Lee, San Diego